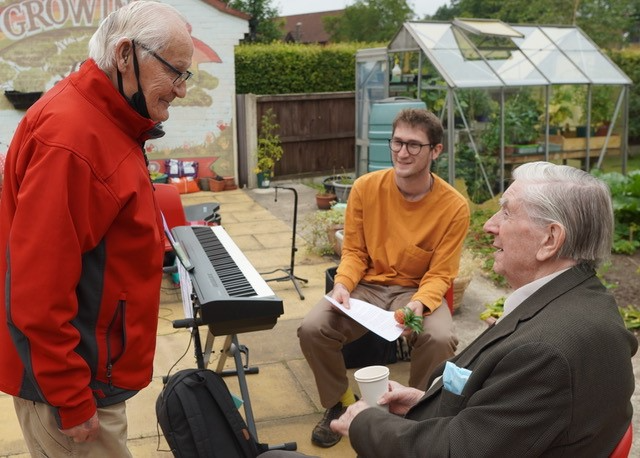 String of Hearts and Wythenshawe Good Neighbours have been awarded a grant from the Arts Council's Let's Create Jubilee Fund by Forever Manchester, ensuring that creativity plays an important role in local community celebrations for Her Majesty The Queen's Platinum Jubilee.
Older residents from Wythenshawe, Trafford and surrounds will take part in a nostalgic Jubilee Journeys creative project, in celebration of The Queen's Platinum Jubilee this June. The project marks the first collaboration between String of Hearts and Wythenshawe Good Neighbours community organisations. Up to 50 members of the two organisations will participate in music and song-writing workshops and aural history podcast conversations taking place in community venues throughout May 2022. In addition, other members and guests from the local community will experience a selection of the music and podcast recordings, and enjoy a sing-along and a Jubilee-themed afternoon tea at the finale showcase event at Northenden Social Club on Tuesday 7 June.
String of Hearts and Wythenshawe Good Neighbours tackle social isolation for over 50s. String of Hearts delivers music-making programmes that reduce barriers to participating in music and creativity. Wythenshawe Good Neighbours offers social eating and wellbeing activities, along with information-sharing and befriending. Bringing the two community organisations together for this Jubilee collaboration will enable older residents to forge relationships with people from different neighbourhoods and cultural backgrounds. Participants will express themselves through creative discussions about their lives, stories, aspirations, achievements, joyful moments, challenges they may have faced, and their changing neighbourhoods, through the decades. Their collective conversations and memories will inspire the writing and sharing of songs for the showcase.
Lucy Geddes, Co-Director of String of Hearts said: "We are really excited to be collaborating with Wythenshawe Good Neighbours on this project, bringing residents together to explore their creativity and life journeys over the last 70 years, share memories and celebrate the cultural diversity of our community."
Samantha Days, Manager of Wythenshawe Good Neighbours said: "We are so pleased that our members will have this fantastic opportunity to collaborate and celebrate with people from the String of Hearts' music groups. Thanks to National Lottery Players, Arts Council England and Forever Manchester our exciting Queen's Platinum Jubilee project will show that everyone can enjoy being creative – no matter their age, background or experience. We can't wait to hear the songs and stories that will emerge from the project."
Older residents keen to take part in the Jubilee Journeys music sessions, should contact Lucy at String of Hearts: Mobile: 07392 154 743. Those who would like to attend the showcase at Northenden Social Club should contact Wythenshawe Good Neighbours: WGNresilience@outlook.com / Office: 0161 905 3898.
The Let's Create Jubilee Fund, made possible thanks to National Lottery players and administered by UK Community Foundations including Forever Manchester on behalf of the Arts Council, will support a huge range of projects throughout England. 44 community foundations have been awarding grants across the country.
Contact: Lucy Geddes, String of Hearts: lucy@stringofhearts.co.uk / Mobile: 07392 154 743 or Kathryn Wolstencroft, Wythenshawe Good Neighbours: WGNresilience@outlook.com / Mobile: 07723 354198