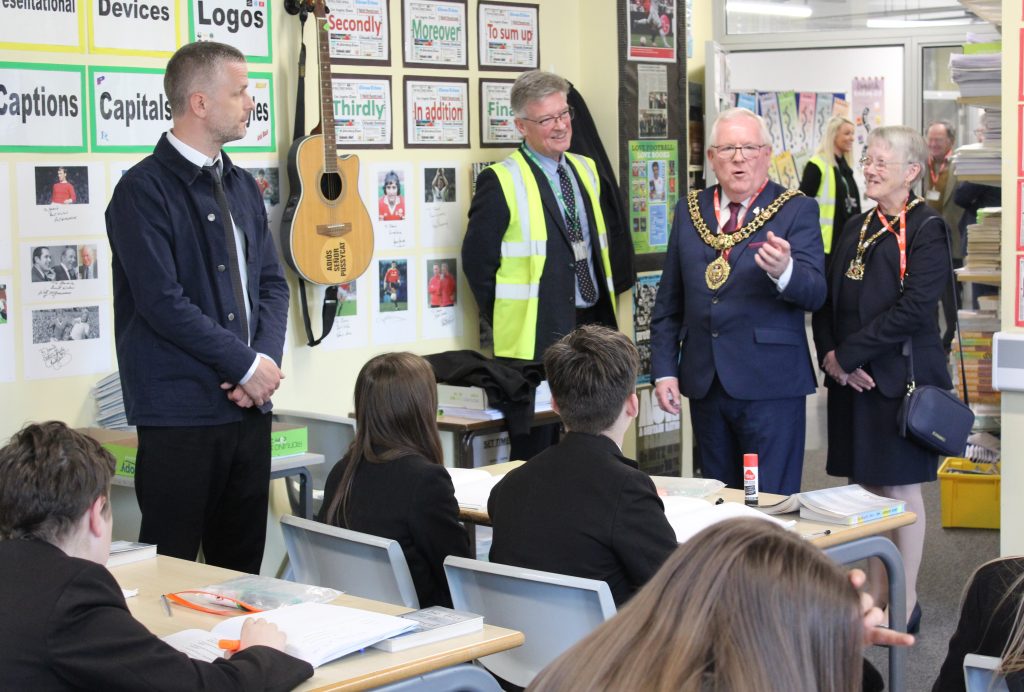 Staff and students at Saint Paul's Catholic High School in Wythenshawe, Greater Manchester were delighted to welcome the Lord Mayor and Lady Mayoress of Manchester, Councillor Tommy Judge and Carole Judge, to the school.
The Lord Mayor toured the school meeting with staff and students and spent some time congratulating the pupils on their work, behaviour and attitudes.
The Lord Mayor is very familiar with Saint Paul's Catholic High School, both his children attended the school and he served for many years as the Chair of Governors at St Paul's. He quips that the "kid without any qualifications ensured that children from one of the most deprived areas in the city had access to good-quality education".
"It was a lovely welcome at Saint Paul's this morning, a calm atmosphere for learning which demonstrates the core values and ethos of the school," commented the Lord Mayor. "My son and daughter spent many happy and successful years at the school. I was very impressed with the engagement of the pupils and with their enthusiasm for learning."
Mrs Charlotte Cooper, Assistant Headteacher, who accompanied the Lord Mayor on his tour of Saint Paul's, commented: "It was a pleasure to guide the Lord Mayor around our school, we were able to show him the many new and exciting initiatives we have and how the curriculum has a distinct focus on developing pupils' broader skills and wellbeing and prepares the pupils for future success as responsible and active citizens. At Saint Paul's, as part of our high quality Personal Development Programme, we aim to equip pupils with the knowledge and skills to make responsible and well informed decisions. Aspiration and confidence were skills that we discussed on the tour and the importance of developing pupils to become socially responsible citizens.
During the tour, we were able to show the Lord Mayor our new Careers suite and explain that throughout the school years we have an active programme which helps build work-related skills. The investment in our Careers Centre is a reflection of the importance we place on preparing our pupils for life beyond Saint Paul's."
Mr Alex Hren, Head Teacher at Saint Paul's, said: "It was a pleasure to meet the Lord Mayor and have him tour our school. He was able to give the pupils some very valuable advice and provided a real inspiration for the pupils to want to do well, achieve and give back to their community."