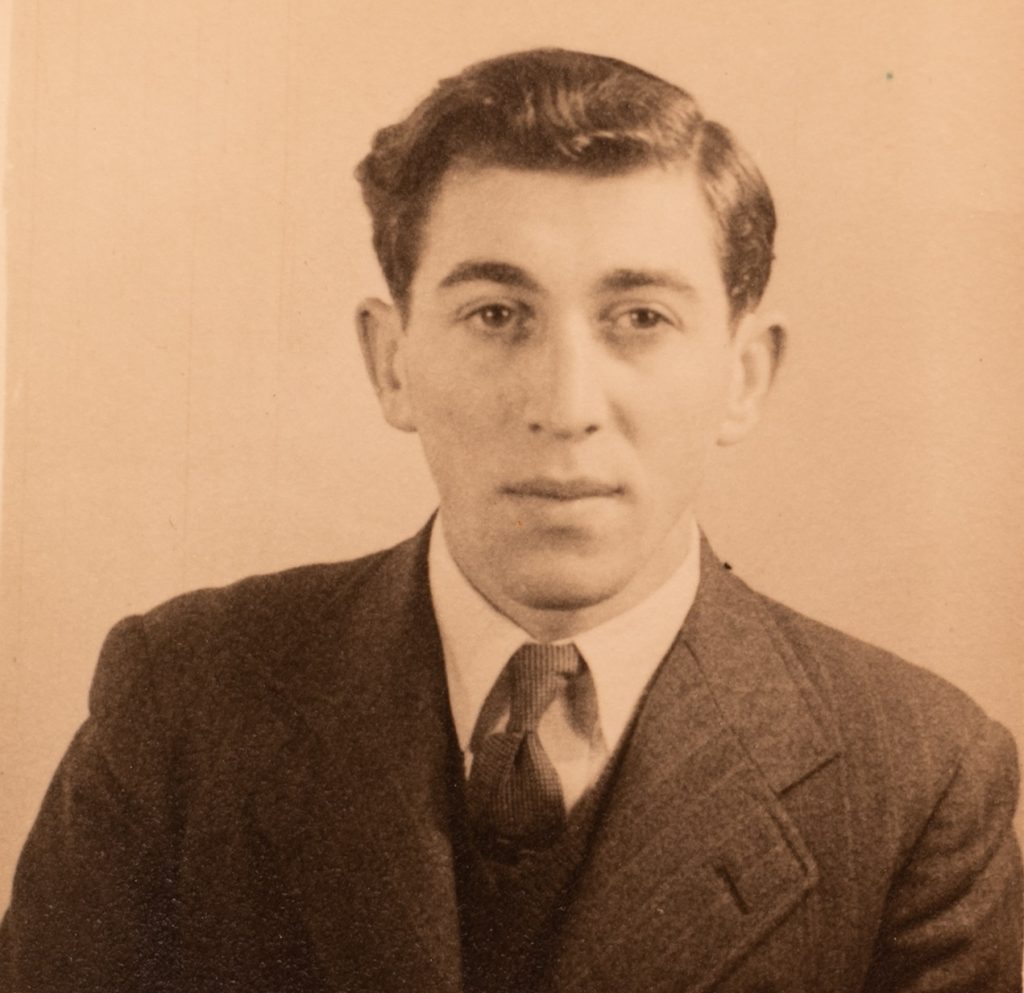 A group of young high school children were recently thrilled and inspired to be visited by one of the last remaining survivors of The Holocaust and Auschwitz to share in his personal experiences of World War II.
Father-of-two Mr Ike Alterman, 93, who lives in Manchester, was just 11-years-old when war broke out. He was separated from his mother and two younger siblings in a brutal selection process in the Jewish Ghettoes before being detained in two concentration camps, including Auschwitz-Birkenau, where he was then separated from his father. He survived a horrifying death march in 1945, missing liberation by just one day before the war finally came to an end.
The only member of his immediate family to survive the atrocities of World War II, Ike came to Britain as a refugee and was one of the famous 'Windermere Boys', a group of 300 children offered shelter and a new life in the Lake District. He later settled in Manchester, married and established a successful trade as a jeweller.
Ike visited St Paul's High School in Wythenshawe, via a live Zoom event earlier this month, to share his personal experiences of the war with 200 Year 7 pupils and staff. The pupils aged 11 and 12 were immersed in Ike's story and excited to ask questions and get answers in real time.
Speaking of the event, Ike said, 'It is very important to speak to the younger generation and to educate them about the Holocaust so it is never forgotten. We survivors do the best we can, as unfortunately there are not many of us left now.'
Asked by the school children what he thinks people should learn about Auschwitz, Ike said, 'It should be kept open as long as it's possible so that people and young people will learn what transpired there, what happened there, and hopefully they will learn and it will give them some things to think about what can happen if we don't look around and try and live a better life in the future.'
After the live event, St Paul's pupil Lev, aged 12, said, 'The experience was very enlightening and informative. It helped me understand the dire circumstances that the people faced in the concentration camps. Without this meeting, I would have never properly understood the magnitude of the situation. I am grateful that we had the opportunity to listen to Mr Alterman and his memories.'
Pupil Olivia, aged 12, said, 'My experience with the Zoom call was very exciting. It was nice to hear it from an actual person not from a book or a film. The Holocaust survivor was very emotional and raw.'
Ollie, aged 12, said, 'I thought it was really rare for someone from The Holocaust to talk to us because there aren't lots of survivors as it was one of the worst things that ever happened. I was extremely interested in what he was saying. I and my class were privileged to witness a great experience.'
The event was set up in collaboration with The Fed, a leading social welfare charity for the Greater Manchester Jewish community, as part of the My Voice Project.
Jocelyne Elton, My Voice Communications and Development Officer at The Fed said, 'Our project records and shares the personal stories of Holocaust survivors and refugees who fled Nazi persecution who are now living in Greater Manchester.
'With the support of a dedicated team of award-winning volunteers, the project produces individual life story books, embracing each survivor's entire life and capturing their true voice, not just their war experiences; to date 32 books have been published.
'Sharing this living heritage with local school children is vital to ensuring these memories live on and the lessons we learn carry across to future generations.'
Ms Laura Fannon, Deputy Head of English at St. Paul's, said, 'We feel incredibly privileged to have participated in this rare opportunity to share in the memories and experiences of one of the last remaining survivors of perhaps the most momentous and horrifying historical event of our time.
'Listening to Ike read extracts from his story and answering direct questions in real-time was an unforgettable experience for pupils and staff alike. Our pupils were visibly engaged and maintained their enthusiasm long after the session had concluded.
'First-hand testimony is a most powerful educational tool, allowing pupils to put a human face to history and enabling students to explore its lessons in a more personal way. We are incredibly grateful to Mr Alterman for spending his time with us and have no doubt this will improve pupils' understanding of the context of their English novels and improve their knowledge in other subjects, as well as developing their appreciation of what it means to be a good global citizen.'
Ike was born in May 1928 in Ożarów, a small town in Poland to a large loving Jewish family. When he was a small boy, the family moved to his fathers' hometown of Ostrowiec. After the occupation of Poland, in April 1941, the Germans established a ghetto in Ostrowiec with terrible living conditions.
In 1942, he was separated from his mother, sister and brother in a terrifying selection process and sent to work in a brick factory with his father. Ike was then taken to Blyzin concentration camp and in 1944 to Auschwitz-Birkenau. In January 1945, he endured a horrific death march to Buchenwald where he missed liberation by a day. He was finally liberated outside Theresienstadt on 8th May 1945. He was the only member of his immediate family to survive the war.
Asked by pupils during the live event what food he was given in the concentration camps, Ike said, 'Well it varied because, I mean, not only in the concentration camps, as soon as war stared in 1939 things changed completely because the German Nazis occupied Poland then a lot of things complete changed. They dictated what you can and have and what you can't have and quite often people started to starve with the rations that had been given to us and you could not say 'no, no, no it's not a lot' or that sort of thing. You had to be thankful for whatever you got or you got nothing at all but they didn't care They would starve everybody, especially Jewish people.'
'Sometimes you get a piece of black bread and coffee made out of coal. Have you ever heard of that? No margarine or anything like that. You were hungry and you were grateful for that and that was it. You never got anything else.
'I got a job in my first concentration camp I was working in the kitchen and I was doing all sorts peeling potatoes cleaning all the vats. There were massive vats they were cooking with because there were hundreds and thousands of people in the camp and I helped do a lot of this work.
'Unfortunately, I caught Typhus and I was lying on my bunk and one morning I decided I'd walk into the kitchen. I was delirious, I didn't know what I was doing and as I walked in, I confronted the Obersturmbannfuhrer, the Nazi guard who was in charge of the camp. There he was in all of his regalia with the rifle and all that and I approached him and I asked him for this revolver and he started screaming 'What' and there was a Jewish Capo who intervened and he said to him 'I'm sorry the man doesn't know what he's talking about because he's delirious and he doesn't understand anything. And I got away with it otherwise he could have just out a bullet through me and this Capo saved my life'
Speaking of life in his second concentration camp, Ike told them, 'In Auschwitz, I was in Birkenau, and I remember looking out over the electric barriers and I saw one of my aunties back there. I recognised her but I couldn't go to near the electric barriers or I would have been electrocuted but I saw her and I had a little piece of bread left, about that much, and I threw it over the barrier for her and she said to me your father was here yesterday, where you are now, because I lost my father, and she says he was sent to Buna. Buna was a works that was producing things for the German army and all that and, apparently, after the war, I found out that he died there.'
Asked by pupils how he held onto hope during this time, Ike replied, 'We couldn't say, because of some of the things that had happened especially in Auschwitz Birkenau, the extermination of people going straight to the gas chambers if you weren't picked to do some hard labour in there. Every day that we survived was a miracle because a lot of people were being exterminated and different transports that came from Hungary, from Poland, from other cities and we saw the chimneys from the extermination camp. The chimneys were glowing 24 hours a day and night. At times they were getting so many transports coming through to exterminate people that they had to dig big graves and were dropping people in and burning the bodies because they couldn't cope the normal way. It was a terrible time. The smell from the burning bodies is something hopefully that no one would ever have to see those things in their lives.'
After the war ended Ike was freed and in August 1945, with the help of the Jewish Refugees Committee, he was transported from Prague to Carlisle on a Lancaster Bomber to the Calgarth Estate in Windermere for rest and recuperation. From there, Ike moved to Manchester and began a successful career in the jewellery trade. He was married to wife Myra for many years until she passed away in 1991. They have two daughters, Elaine and Fione, and two grandchildren. Ike now lives close by to his family with his partner Diane Stoller.
Speaking of his arrival in England, Ike told the schoolchildren, 'We didn't know what to expect, except we were going to England. Where is England? What is England? We had never heard of it as children because in Poland children have very little knowledge what's going on in the world and what's happening because always your parents look out for you.
'When we arrived, we couldn't believe our eyes. It was like out of hell into paradise, the way we were being treated there and the people cared for us. The people who helped us, complete strangers, they were all invited to give us a helping hand. You see, we couldn't speak a word of English. We could only talk to each other because nobody spoke English, nobody's learned English, but we pressed on and we had a wonderful time in Windermere.'
Ike spent three months in Windermere and then chose to move to Manchester with some of the refugees he had befriended.
He said, 'In those days, when we arrived in Manchester we were a bit wary and we saw these traffic lights and we started to panic because we'd never seen traffic lights so everything was like something new you were so unsure, you didn't know what was going to happen. Same as in the camps you didn't know what was going to happen in the next half hour or the next hour or tomorrow, tonight or what. You were fearful all the time whether you are going to survive. Thankfully, I think my mother was looking after me, That's my belief. Rest her soul.'
He began work as a mechanic but, inspired by watching his uncles work as a child, he took a job in the jewellery trade. He set up his own successful business and became a member of the London Diamond Bourse before eventually retiring.
Ike told the pupils he is proud of his achievements, adding, 'You see, you must remember I had no one to turn to to help me. I had to do all of these things myself or find people to help me to achieve some of the things that I have achieved. People used to say if you want something doing go and see Mr Alterman, it's good – and that to me was worth more than money, the fact the people relied on me and appreciated the quality.'
'This important event gives us an opportunity to take time out to remember the victims of the Holocaust and other atrocities and to look at how we can avoid such things happening in the future,' commented Mr Alex Hren, Head Teacher at Saint Paul's. 'The victims of the Holocaust and the terrible injustice which they suffered should never be forgotten. Events such as this give us the opportunity to learn lessons from the Holocaust and the horrific consequences of Nazi persecution. It is important that we involve young people in this learning so we can develop a legacy which teaches the next generation about respect and tolerance and instils the message of peace.'